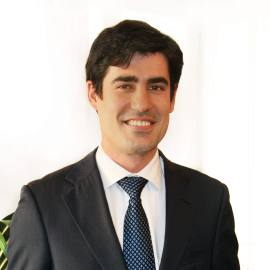 Diogo graduated from University of York in 2004 with an honors degree in Economics & Finance. He then went on to Université Paris 1 (Sorbonne 1) to do a Diplôme Universitaire in Mathematical Models in Economics and Finance, graduating in 2005. Most recently, in 2017, he obtained a Post Graduate Diploma in Management Control and Performance by INDEG-IUL ISCTE Executive Education.
PROFESSIONAL EXPERIENCE
In the Banking industry, Diogo has worked as an Equity Analyst and Research Analyst for Barclays Wealth. As an Equity Analyst he followed Oil & Gas, Retail, Telecoms and Utilities. As a Research Analyst he was focused on macroeconomic analysis and strategy for Emerging Markets, mainly Brazil and India. He also worked with optimization (Black-Litterman approach) of tailored portfolios. More recently Diogo worked as external Financial Advisor for Best Bank.
In the non-banking industry, Diogo has experience as Finance Director of a football club (Clube Desportivo Nacional) and Managing Director of Redecor Madeira (subsidiary of Redecor S.A. – niche markets in civil construction).
LinkedIn profile: https://pt.linkedin.com/pub/diogo-antunes-abreu-dos-santos/5/353/736